How to Start a WordPress Blog with Bluehost
This post contain some affiliate links.
There are quite a few decisions to make when starting a blog. There's that what to blog, how to blog, where to blog, etc. But one of the basics is what platform to use and where to host it.
Let me make one of the decisions easy for you. Use WordPress and use Bluehost.com.
Why use WordPress and Bluehost for blogging?
WordPress is the most popular, most user-friendly and most scalable blog platform you could ever use for blogging and with Bluehost.com, you can start your blog with the smallest amount of investment possible because their WordPress hosting plan starts at $3.95/month. Most million dollar blogs (some of which you may know) use both of these recommendations. Besides, you can also get a FREE domain name (with a hosting plan sign-up), 24/7 support and easy WordPress installation.
So if you want to have a good foundation from the very beginning, I highly recommend going with WordPress and Bluehost. WordPress is a totally free platform and this is not the wordpress.com where you would have yourdomainname.wordpress.com. Bluehost.comalready has the WordPress software that you can install once you sign-up with them and you can have your own domain name.
Where to begin?
Step 1: Sign-up with Bluehost
Bluehost.comprocess is very streamlined. Just go to Bluehost.com and click on Get Started. Most beginners pick the $3.95 plan. But whatever plan you pick, be sure to opt for the annual payment because you will save a TON of money in hosting that way plus you will get a free domain for the first year which is another saving. When just starting out, you'd want to save as much money as you can in these fees.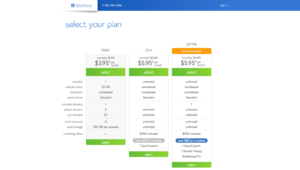 Step 2: Set Up Your Own Domain Name
Whether you've already purchased your own domain name somewhere else or with your Bluehost.com hosting plan purchase, they allow you to use your own in easy-to-follow steps. Just follow the wizard.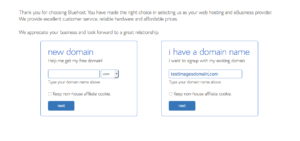 Step 3: Install Your WordPress Blog
As mentioned above, Bluehost.com has a one-click install for WordPress to make it easy for beginners and advance users alike. All you have to do is click on the Start Building button (after you've entered your payment information and all) and follow the prompt on the screen.
If you get the screen below and it's asked you which site you'd like to set-up, choose Business. There is no additional fee anyways.
Step 4: Set Up Your WordPress Theme
Although Bluehost offers a free WordPress theme as well, I highly recommend purchasing a premium theme from the very beginning. Most free themes are limited and not so visually appealing. I would suggest checking out 17th Avenue, Bluchic, Themeforest, and Creative Market for some paid themes.
With Creative Market, you can also purchase lovely stock photos.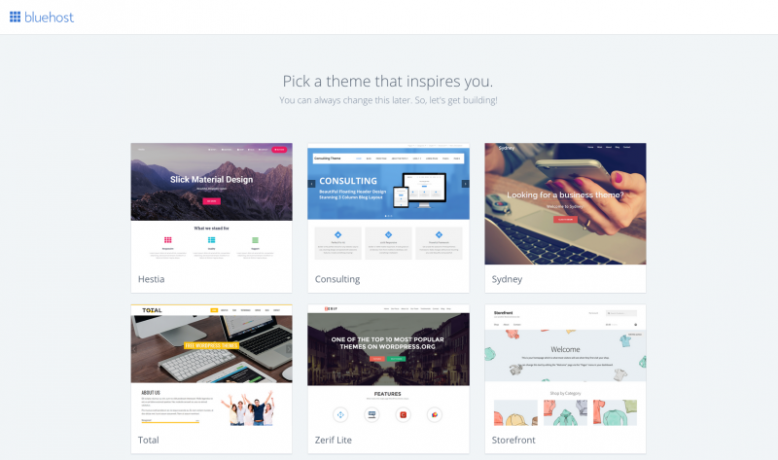 Step 5: Customize Your WordPress Blog
Installing your own preferred WordPress theme is just one of the customizations you can do with WordPress. It's so scalable that you can add WordPress plugins that will make your blog successful.
And that's it! That's how easy it is to start a WordPress blog on Bluehost.com.