How does an extra $1,000/month sound to you? What about an extra $5,000/month? Or $30,000/month?
Maybe you're tired of your 9-5 job and just barely getting by. Tired of living paycheck to paycheck, working your behind day in and day out with nothing to show for it. You heard that there are people blogging and making thousands of dollars every month and you wondered if you can do the same. BUT YOU JUST DON'T KNOW HOW.
Maybe you want to make more money, spend more time with your family, and travel a lot while not having to worry about whether you're going to have an income coming in or not.
And you heard that these are all possible with a blogging business. Maybe you even follow some of the most successful bloggers and you've been wanting to do it but afraid to take a leap of faith.
Maybe you are passionate and skilled at something and you thought of sharing it in a blog to make money and grow it as a business.
Millions of bloggers all over the world are doing it…so can you. What's holding you back from doing the same? Is it the feeling of you're not good enough? Is it because you feel like you're not equipped with the right plan or maybe you just don't know exactly where to start?
Or maybe you have been reading about making money from blogging already but the information is just way too overwhelming. You want a step-by-step strategy that actually works.
There is a whole lot of information out there and it can just be way too overwhelming and to a point frustrating when you're reading every single one of them but stuck at implementing because you don't know what works.
Perhaps you started a blog but need a system to make it financially successful. You need a strong blog business foundation for long-term success.
A blog without a business system doesn't make money. You need a system in the backend, a business model that actually brings in revenue in order for your blog to be sustainable and scalable.
Let me walk you step by step with

Become a BLOG BOSS

course. Become a BLOG BOSS now!

Prepare and program your mind for blogging success. Avoid the mind games that are causing you to fail!

Set your blogging goals with an easy and simple questionnaire.

Different types of blogs and niches explained. Determine which one is right for you.

Brand your blog right from the start and avoid the mistakes I made.

Simplified step by step instruction on the techie stuff: How to register your domain name, set up Wordpress blog, and customize it to match your branding.

Learn how to create cornerstone contents that will skyrocket your blog's page views.

Learn how to write blog posts that your readers will love and share.

Brand your social media platforms for consistency and recognition.

Approximately 300 blog content ideas to get you started and to keep you going.

Establish a monetization system (a backbone that works) for your business to keep revenue flowing.

Proven and effective ways to drive traffic to your blog, including a Pinterest strategy.

Streamline your social media activity for productivity and profitability.

How to work with national brands and get paid to do it.

Different strategies to grow your email list.

Each day to day lesson is organized strategically. Combined with action steps for each lesson, you are poised to become a #BLOGBOSS in no time at all!

Complete with worksheets, questionaires, checklists, notepads to make sure that you're well organized and strategic in building your blogging business.

A sample strategy to earn your first $1,000.00 from blogging without thousands of followers!

AND MORE! I will share with you proven tactics that have worked for me in my 7 years of blogging and brought me six figures!

GET THE FOLLOWING BONUSES AS WELL WHEN YOU ENROLL TODAY…

A BLOG BOSS Binder with the beautifully designed and high-quality printed worksheets, questionnaires, checklists, and notepads. NO other e-course has ever offered such kind! These alone are valued at $100.

A BLOG BOSS coffee mug + pen. Valued at $27.

40 Beautifully-styled stock photos that you can use free of charge right away to get your blog started! Valued at $47.

The Ultimate List: An access to approximately 250 influencer networks, 167 PR firms and digital marketing agencies, 30 advertising networks, 20 affiliate networks and 200+ hotel contacts in US Top 25 Popular US destinations you can reach out to! Valued at $49.

Access to the SECRET Facebook group for the students of this course only – for progress check, accountability, and community.

BONUS REWARD for students who finished this course successfully!
+ a PERSONAL one-on-one email coaching from me for 60 days!
I will go over your blog, branding and cornerstone contents to make sure you are on the right track! Provide you with suggestions and answer your questions to make sure you are successful in launching your blog! This is unheard of for this price. Most coaches charge $1000 upwards just to give you comments, suggestions, and direction!
A lot of blogs fail and a lot of bloggers quit for lack of strategy, clarity, direction, and a proven money-making system. With the Become a BLOG BOSS course + 60 day coaching from the time of purchase, you can be confident that you are set up for success!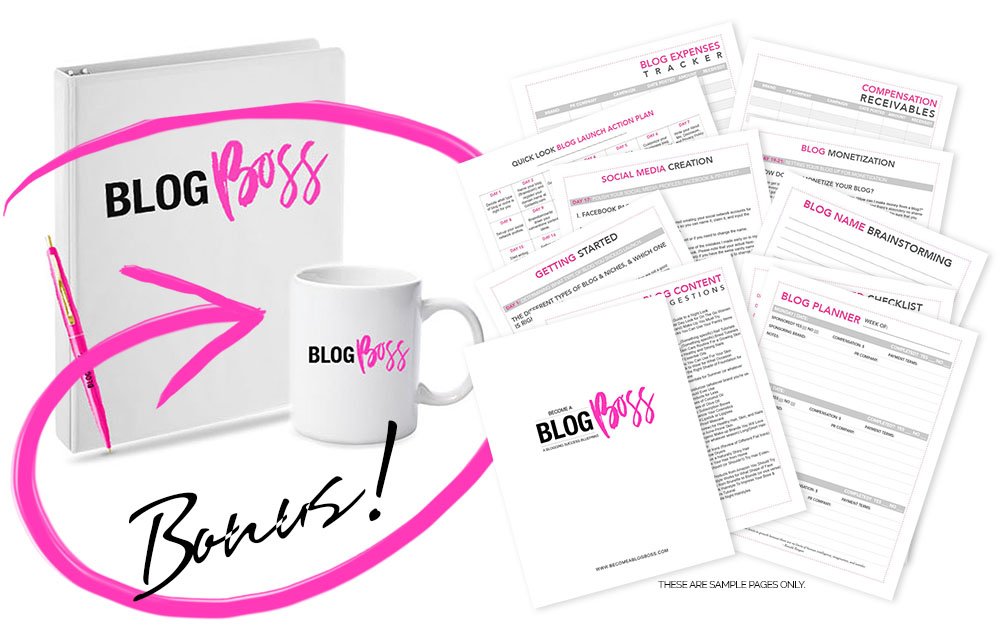 With Become a BLOG BOSS course, steps are SIMPLIFIED and METHODS are clarified, leaving no room for clutter in your mind! 
NOW IS THE BEST TIME MORE THAN EVER TO START YOUR OWN BLOGGING BUSINESS.

1. 

What is the difference of Become a Blog BOSS course from the other courses out there?
I believe that the #1 difference is the fact that I offer a personal one-on-one email coaching to go over what you have accomplished so far within the 30-60 day period from the time that you enrolled in the course. Personal coaching like this normally costs $1000 upwards. I want to make sure that you take action and that you're on the right track so you can get your investment back and get a profitable blog up and running in no time.  (For pre-launch sign-ups, your coaching time starts the date of your purchase.)
This course is also very strategic. I have seen a lot of courses on blogging that are so content-heavy but so disorganized that after taking the course, you still don't have a solid, step-by-step plan on how to get started
2. 

Do you offer a money-back guarantee?
I'm not a proponent of quitting just because you didn't see a result within 30-60 days. My goal in this course (and what your goal should be too) is to walk you step by step in setting up a blog that has a strong profitable business foundation. Would you rather quit and get your money back and lose a potential income of $1,000, $5,000 or even $30,000/month? In fact, you shouldn't even be thinking about this not working. That's the beginning of mindset issues.   I am committed to your success so therefore in lieu of money-back guarantees, I've included a 60 day email coaching if you have any questions.
3. 

How long do I have access to this course?
You have a lifetime access to this course. The benefit of that is that since trends in blogging change, we will keep  updating whatever areas need to be updated to keep up with the technology.
4.

I am not a very techie person. Will I still be able to do this? 
Absolutely! If you know how to operate a computer and know how to follow instructions, you should be able to get a WordPress blog up and running in no time.
5. 

How long will this course take? 
The plan is 30 days. However, I understand that life can get hectic and there may be days when you're unable to work because you're too exhausted or just don't have enough time. That is why my personal one-on-one email coaching is up to 60 days from the time that you enrolled. (For pre-launch sign-ups, your coaching time starts on the date of your purchase.)
6. 

Do I have access to the lessons all at once?  
Yes, all lessons are ready and available! You can do them at your own pace. However, I highly recommend following the 31-day step-by-step strategy to go over this course and build your blog. 
7. 

Who is this course for? 
This course is for those who have any interest in starting a blogging business. I would say that it is for beginner to intermediate level. If you already have a blog but feel like you can make some changes, learn some strategies or get a bit more of a direction, then you can take this course.
8. 

Does this work for any industry? 
The basics will work for any industry. However, monetization and traffic strategies are not one-size fits all. In the course, I have defined different monetization strategies and a sample strategy to earn your $1,000.
9. 

Can I download the worksheets and printables online? 
Yes, absolutely! While there is a bonus binder with the worksheets and printables in there to get you started, these are also available online if you need to re-print them. Absolutely no additional charge at all when you download and print.
Course Features
Lectures

81

Quizzes

0

Duration

Lifetime access

Skill level

All levels

Language

English

Students

7767

Assessments

Yes