Here comes Social365... your all-in-one solution to social media content for 365 days! Yes, that's every single day for a year!
Eliminate the stress, frustration and overwhelm in creating content for your social platforms. Consistently post content that will sky rocket your visibility and engage your followers with social media prompts, all planned out for you! It doesn't matter what niche you're in, Social365 will work for you.
1. 365 Days of Content Across Major Social Platforms
365 days…that's everyday for 1 whole year that you won't have to worry about what to publish when because Social 365 comes with daily plug-n-play prompts that are applicable no matter what industry you are in.
And because you will be posting content on a daily basis, you will get more love from your social platforms since their algorithms love consistency.
You will also see an increase in your visibility,  increasing your exposure to audience that are a good fit and thereby increasing your followers.
The plug-n-play prompts come with questions to help you engage with your followers and vice versa, making your content look interesting!
You don't even have to think about photo ideas because the prompts already come with photo suggestions, saving you tons of time in brainstorming and planning!
Each monthly content comes out on the 15th of the month prior. This proven strategic drip method will allow you to concentrate one month at a time and not get overwhelmed with all the content planning you have to do.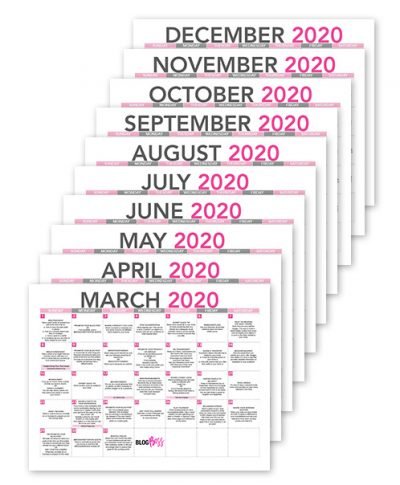 2. US, Canada, Australia and UK Holidays and Themes and Global Observances
You won't have to miss publishing on an important major holiday, a fun theme of the month in the US, Canada, Australia and UK and global observances because everything is laid out for you on Social365.
Most major holidays and popular themes and observances are incorporated in the calendar prompts.
But having access to this gives you options on which event to celebrate on your social media if there are multiple ones on a given date!
3. Social Media Holidays 
Aside from official major holidays and observances, there are also some fun holidays that are only popular and celebrated in social media! 
This list gives you access to these social media holidays so you can stay relevant, fun, and interesting!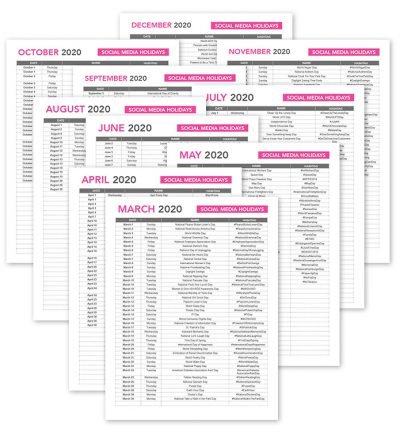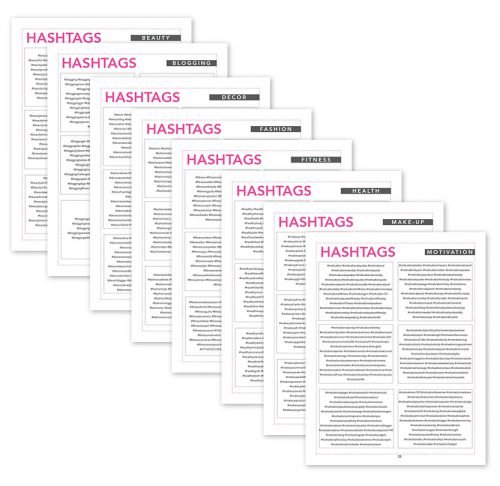 4. Approximately 180 hashtags per category/keyword in 40 categories/keywords, seasons of the year, and days of the week.
Hashtags are crucial in attracting your ideal audience. We've researched the top hashtags and came up with approximately 180 hashtags per category/keyword in 40 different categories/keywords.
Using these hashtags will help you attract audience that will be interested in what you have to offer and engage with you.
In addition, we've also added up to 180 hashtags per season of the year and per day of the week! 
A list of thousands of hashtags at your fingertip! 
5. Over 230 Motivational Quotes + 30  Image Quotes in 4 Different Backgrounds
Plug-n-play motivational quotes to inspire your followers on #MotivationMondays or any day of the week!
These are quotes from successful world leaders and game changes that are proven to inspire and motivate!
Also comes with 30 image quotes that are ready for you to publish with no sweat at all! It's non-branded and comes in 4 different colors to match your aesthetics!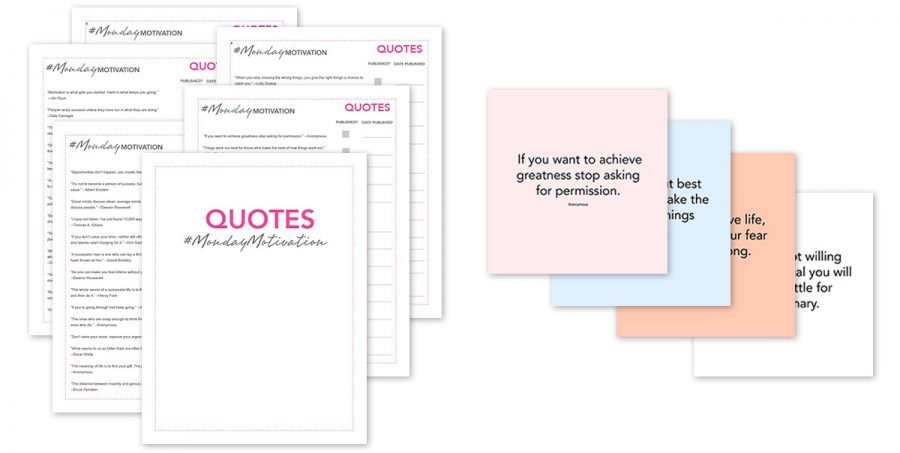 PLUS You will also get blank and undated calendars so you can plan your own, add to it, and use the printable calendars over and over throughout the years!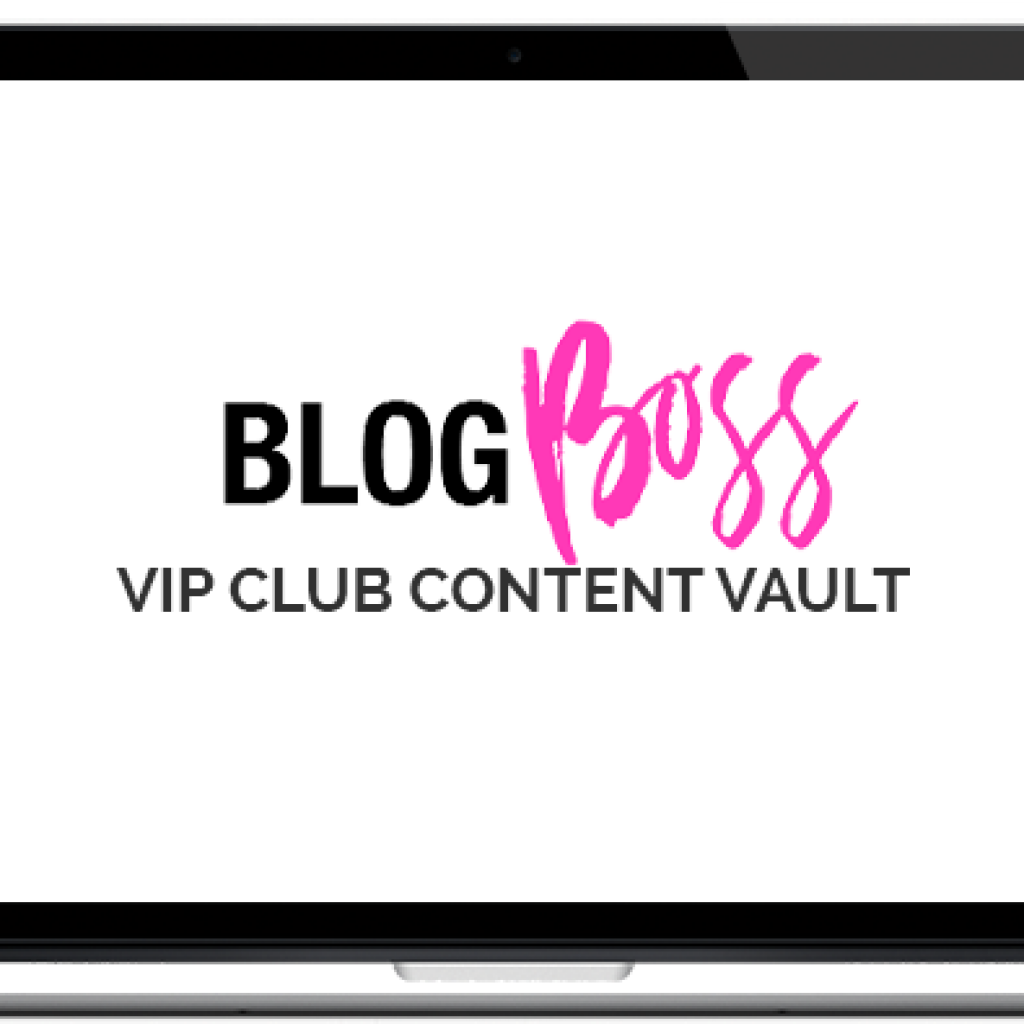 BONUS! FREE Blog Boss VIP Club  Content Vault Subscription for One Month! 
When you purchase today, you will also get ONE MONTH free subscription to my VIP Content Club where you will have access to thousands of blog articles, ebooks, and video trainings that you can use in your own blog or to grow your email list! You have 100% publishing rights!
Let's face it…even if your full-time job is to create content…ain't really nobody got time for a lot of that AMONGST all other things  on our plate…
So Social365 is the solution for you. For $27, you will have an access to a social media content all planned out for you! 
We did all the possible work for you so you can concentrate on growing your business organically! 
For as little as $0.90 a day, you have access to this goldmine that will totally change your life and your business game! That's less than a fraction of a cost of a cup of coffee! 
Course Features
Lectures

111

Quizzes

0

Duration

365 days

Skill level

All levels

Students

821

Assessments

Yes